Issue:
Washing machine does not spin
Washing machine displays error code EF5 - unbalanced load
Laundry is still wet after the programme is finished

Applies to:
Washing machine
Washer dryer

Applies to model numbers:
EWW1042AEWA, EWW8023AEWA, EWW1141AEWA, EWW7024FDWA, EWF7525EQWA, EWF8025CQWA, EWF1141SEWA, EWF9023BDWA, EWF1141AEWA, EWF1042BDWA, EWF9025BQWA, EWF8025DGWA


Resolution:


If your washer is not spinning, the below fixes may help...


Make sure that the transit bolts are removed from the back of the appliance.


1. Remove the power supply cable and the drain hose from the hose holders.
Caution: It is possible to see water flowing from the drain hose. This is due to the testing with water of the appliance in factory.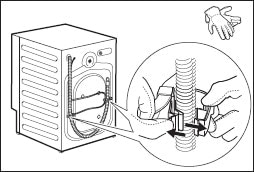 2. Remove the three bolts, the hose holders and plastic spacers by using the spanner supplied with the appliance.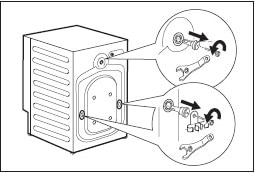 3. Close the holes with the plastic caps provide in the User Manual package. Put the smallest cap F in the upper hole and the two bigger caps G in the lower holes.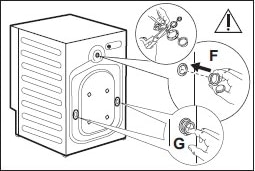 Make the washing machine level by raising or lowering the feet.
Use a spirit level to check whether the machine is level on all its feet.

Adjust the feet using a spanner

Check if the laundry is loaded correctly.
Very small loads can cause balance problems with the spin phase leading to excessive vibration. If this occurs:
Interrupt the programme and open the door

Manually redistribute the load so that the items are spaced evenly around the tub

Press the Start/Pause button.The spin phase continues

Make sure that the drain filter is not clogged.
Clean the filter, if necessary.

For detailed procedure refer to the user manual supplied with your appliance.

Make sure the Rinse Hold option is not selected.
With this option selected the final spin is not performed

The water of the last rinse is not drained out to prevent the fabrics from creasing

The washing program ends with water in the drum.

Is the appliance installed on a suspended floor?
To limit vibration, we recommend placing a waterproof wooden panel, at least 15mm thick, under the appliance. It should be screwed to at least 2 floor beams and should extend beyond the front feet. If possible, install the appliance where the floor is more stable.

If the problem occurs persists, please contact Electrolux Service Centre for more support.


Warning: We do not recommend using the product until the problem has been completely fixed. Unplug the product and do not plug it in again until the problem is fixed.