Procedure
Step 1: Make scrambled eggs
In a pan on medium-high heat, heat up 4 Tpsp vegetable oil and stir-fry beaten eggs for 1 to 2 minutes to scramble.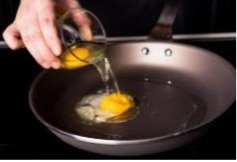 Step 2: Add prawns, ham and mixed vegetables to pan
Push scrambled eggs to the side of the pan and add shrimps, chicken ham and mixed vegetables. Stir-fry for 5 minutes or until shrimps are cooked.



Step 3: Toss rice with ingredients
In the same pan, add rice and mix well.




Step 4: Season fried rice
Season with 2 Tosp soy sauce and ½ tsp pepper. Stir-fry for 3 minutes and season to taste with additional light soy sauce if needed.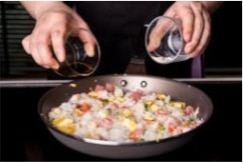 Step 5: Plate and serve!
Transfer the fried rice to a serving plate, garnish with spring onions and serve hot.