Procedure
Step 1: Soak the bee hoon in water
Soak 200 g bee hoon in warm for 20 minutes, or until they become soft. Strain and set aside.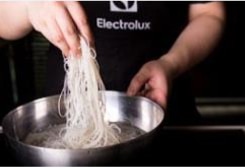 Step 2: Make sauce
In a small bowl, mix 1 Tbsp oyster sauce, 2 Tbsp curry powder, 1½ Tbsp light soy sauce, ½ Tbsp sugar and ¾ cup water. Set aside.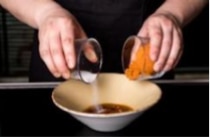 Step 3: Stir fry vegetables and meat
Heat 2 Tbsp of oil in a wok or skillet over high heat. Add sliced yellow onion, sliced red bell peppers and stir fry until soft, add in garlic. Add sliced chicken breast and cleaned shrimps, stir-fry until chicken is white and shrimps turn red.



Step 4: Stir fry the noodles, bean sprout, eggs and sauce
Add the bee hoon and bean sprout, stir to combine well with all the ingredients, for 1 minute. Add the eggs cook for 1 minute. Add in the sauce and cut spring onions. Stir until well combined.



Step 5: Serve
Turn off the heat and serve noodles immediately.