Procedure
Step 1: Cook coconut rice
Wash rice, then add 2 cups water and coconut milk, 3 Tbsp salt, bruised lemongrass, and peeled galangal. Cook in rice cooker.



Step 2: Blend and fry sambal
In a blender, add chilies, shallots, garlic, belacan, 3 Tbsp oil and blend into a fine paste. In a pan on medium-low heat, add paste and fry for at least 20 minutes, until color is darkened and oil separates from the paste. Season with 1 1/2 Tbsp sugar and 1 tsp salt.



Step 3: Cook ikan kuning

Score the fish, then rinse and dry. In a small bowl, mix together 2 Tbsp turmeric powder, 1 Tbsp salt and 1 tsp chili powder, then coat fish in the mixture. In a pot on medium heat half filled with hot vegetable oil, deep-fry fish, then set aside on paper towels to drain.



Step 4: Cook Hardboiled egg
In a pot of water, add eggs and bring to a boil and cook eggs for 10 minutes
Remove from heat and allow to cool, then peel off eggs shells and slice eggs in halves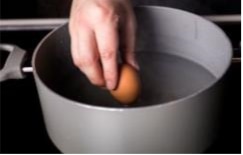 Step 5: Assemble and serve
On a plate, add a bowl of coconut rice, 1 ikan kuning, cucumber slices, hardboiled eggs, ikan bills amd sambal! Serve hot.