Procedure
Step 1: Blend rempah (spice paste)
In a blender, blend shallots, onion and dried chili until smooth. Use vegetable oil to help you achieve a smooth consistency.

Step 2: Fry rempah

In a pan on medium heat, add 2 Tbsp vegetable oil and fry belacan until fragrant. In the same pan, add the rempah, tau cheo and white sugar and fry on medium-low heat for 30 to 45 minutes or until fragrant and dark red.


Step 3: Add tamarind paste and water

Transfer spice paste into a pot and add the tamarind paste and water mixture. Immerse for 10 minutes on medium-low heat.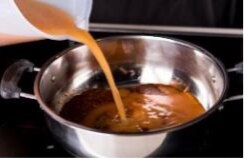 Step 4: Fry bee hoon and plate

In a pan on medium heat, heat 2 Tbsp vegetable oil and fry 1 Tbsp chili powder with the bee hoon for 30 seconds until well coated. Arrange fried bee hoon, bean sprouts, sliced hard-boiled egg and diced tau pok in your serving bowl. Ladle over the broth and garnish with sliced chives.