Procedure
Step I: Boil sweet potatoes
In a pot, fill the pot ¾ with water and bring to boil. Once boiling, cook sweet potatoes for 20 minutes until softened.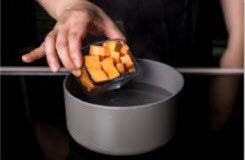 Step 2: Make and fry rempah (spice paste)

In a blender, blend large red chili, shallots, garlic, candlenuts, galangal, 1 Tbsp turmeric powder, 1 Tbsp meat curry powder, dried shrimps, 100 ml chicken stock and ikan bilis until smooth. Fry rempah with lemongrass for 20 to 30 minutes in a pan on medium heat until fragrant.


Step 3: Make mee rebus gravy

Strain sweet potatoes and place into a bowl. Using a fork, mash sweet potatoes until slightly chunky. Add mashed potatoes, 2 Tbsp tau cheo and 400 ml chicken stock to the rempah. Mix well and let it cook for 5 minutes.



Step 4: Toss in ground peanuts and season

Remove lemongrass and galangal from sauce and toss in ground peanuts. Season sauce with 2 Tbsp brown sugar. Season to taste with additional brown sugar if needed. Let it simmer for another 5 to 10 minutes until you reach your desired consistency and remove from heat.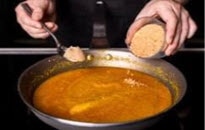 Step 5: Blanch yellow noodles

In a pot, boil enough water for blanching. Once boiling, blanch yellow noodles for 15 seconds and remove from water. Place yellow noodles in serving bowl and ladle over mee rebus gravy. Top with bean sprouts, sliced green chili, sliced hard boiled eggs, chopped spring onions, calamansi lime and tau kwa cubes.